08 Sep 18 - Farang Go Home!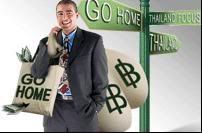 (Farang leaves Thailand together with their investments.)
ต่างชาติทิ้งบิ๊กแคป หอบเงินกลับ ปท. *ไม่สนไทยแลนด์โฟกัส - นายกฯ คนใหม่
ต่างชาติเมินหน้าหนีตลาดหุ้นไทย หอบเงินกลับประเทศ โละทิ้งบิ๊กแคป ฉุดราคาพลังงาน- ธนาคารรูดกราว หลังกังวลวิกฤตสหรัฐฯ ส่อเค้าทรุดหนักจากพิษซับไพร์ม หวั่นฉุดสถาบันการเงินรายอื่นในสหรัฐฯ "โกลด์แมน แซคส์" และ "มอร์แกน สแตนเลย์" ล้มครืนตามรอย "เลห์แมนฯ" ชี้แม้การเมืองเริ่มเห็นทางสว่าง หลังสภาฯ โหวต "สมชาย วงศ์สวัสดิ์" นั่งเก้าอี้นายกฯ คนใหม่ แถมจัดงาน "ไทยแลนด์ โฟกัส 2008" เรียกความเชื่อมั่น แต่รอบนี้ไม่มีผล เหตุนาทีนี้ต่างชาติเน้นกอดเงินสดลดเสี่ยง ด้านกองทุนในประเทศอ่วม พอร์ตลงทุนปีนี้อาจยับเยิน หลังผลตอบแทนลงทุนตกต่ำ โบรกเกอร์แนะจับตาสถานการณ์ใกล้ชิด


The morning was fine when I was in the office, and while I was in boss's house to attend his ceremony, all hell went loose.
"
Maybe I should stop with managing Funds for now.
" that was what I was thinking.

Any takings?